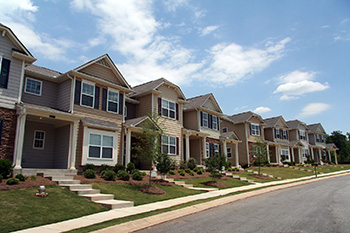 Governor Dayton has signed into law House Bill 1538. The new law adds additional requirements for condominium and townhome homeowners associations wishing to bring construction defect claims against developers and is intended to lessen the number of unwarranted construction defect suits that are discouraging developers from building new condominiums and townhomes in Minnesota.
Among other things, the legislation requires that before commencing a construction defect claim, homeowners associations must deliver notice of the anticipated commencement of a lawsuit to each of the homeowners in the project. Moreover, associations must obtain the approval of the majority of those homeowners before starting litigation. Associations must also go through mediation with the project's developer prior to commencing a construction defect suit. In addition, homeowners associations will be required to develop a preventive maintenance plan for their communities. With the exception of the maintenance plan requirement, the provisions of the new law only apply to common interest communities created on or after August 1, 2017. Interestingly, after going through conference committee, one of the bill's earlier provisions—to eliminate the ability of a homeowners association to recover attorneys' fees if it prevailed in a construction defect claim—was removed.
Although the changes addressed above may reduce the number of construction defect lawsuits started by future associations, plaintiffs' lawyers will continue to have a powerful incentive to bring these claims due to the existing attorneys' fees provision of Minnesota's condominium law.
Featured Professionals
Related Services