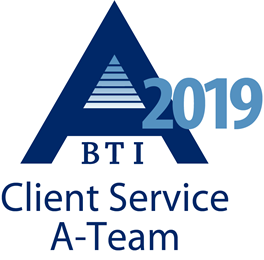 Fredrikson & Byron has been recognized as a leader in client service, as the firm has been named to the BTI Client Service A-Team 2019. In its 18th year, the A-Team consists of law firms that "deliver the absolute best levels of client service," according to BTI Consulting Group, which awards the honor.
Fredrikson & Byron joined the A-Team Honor Roll in eight categories:
Commitment to Help
Understands the Client's Business
Providing Value for the Dollar
Meets Core Scope
Keeps Clients Informed
Deals with Unexpected Changes
Handles Problems
Advising on Business Issues
The BTI Client Service A-Team 2019 is based on direct, unprompted feedback gathered through in-depth interviews with more than 350 corporate counsel.
Fredrikson & Byron is a 275-attorney law firm based in Minneapolis, with offices in Bismarck, Des Moines, Fargo, St. Paul, Saltillo, Mexico, and Shanghai, China. Fredrikson & Byron has a reputation as the firm "where law and business meet". Our attorneys bring business acumen and entrepreneurial thinking to work with clients, and operate as business advisors and strategic partners, as well as legal counselors. More information about the firm is available at www.fredlaw.com. Follow us on LinkedIn and on Twitter @FredriksonLaw.
Media Contact
Kelly Griffith
612-492-7514