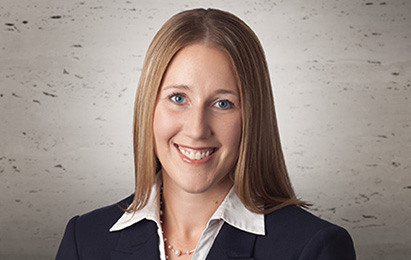 Fredrikson & Byron shareholder Aubrey J. Zuger was named a "40 Under 40" honoree by Prairie Business magazine. Prairie Business annually recognizes 40 high-achieving, up-and-coming leaders from across the Dakotas and western Minnesota region, all of whom are under 40 years old. Zuger, a mother of three, currently serves as President-Elect of the State Bar Association of North Dakota and sits on the Board of Directors for Ronald McDonald House Charities. She is an active contributor to local nonprofits and frequently volunteers time to pro bono cases.
Zuger works in the Fargo, North Dakota, office and is a member of the Litigation and Employment & Labor Groups. She represents clients in a wide range of complex business matters, including contract disputes, securities fraud litigation, shareholder disputes, business torts, foreclosures and employment discrimination claims. Zuger also represents clients in trust and estates litigation, including will disputes, actions related to the appointment of fiduciaries and guardianship/conservatorship matters. Prior to joining Fredrikson & Byron, Zuger clerked for the United States Court of Appeals for the Eighth Circuit and the North Dakota Supreme Court.
Fredrikson & Byron is a 275-attorney law firm based in Minneapolis, with offices in Bismarck, Des Moines, Fargo, St. Paul, Saltillo, Mexico, and Shanghai, China. Fredrikson & Byron has a reputation as the firm "where law and business meet". Our attorneys bring business acumen and entrepreneurial thinking to work with clients, and operate as business advisors and strategic partners, as well as legal counselors. More information about the firm is available at www.fredlaw.com. Follow us on LinkedIn and on Twitter @FredriksonLaw.
Media Contact: Kelly Griffith, 612.492.7514, kgriffith@fredlaw.com.
Media Contact
Kelly Griffith
612.492.7514