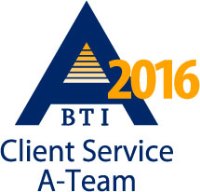 In its BTI Client Service A-Team 2016 report, the BTI Consulting Group included Fredrikson & Byron on its "Honor Roll of the Best" ranking for its client service excellence. The firm earned recognition in the areas of "Providing Value for the Dollar" and "Regional Reputation."
For its 15th annual report, BTI conducted more than 300 in-depth telephone interviews with legal decision makers at the world's leading organizations to determine how law firms perform along 17 areas, designated by BTI, as drivers of superior client relationships. The BTI Client Service A-Team report is considered the gold standard to assess how law firms honestly stack up in client service delivery. For more information, visit the BTI Consulting Group website.
Fredrikson & Byron is a 275-attorney law firm based in Minneapolis, with offices in Bismarck, Des Moines, Fargo, St. Paul, Monterrey, Mexico, and Shanghai, China. Fredrikson & Byron has a reputation as the firm "where law and business meet". Our attorneys bring business acumen and entrepreneurial thinking to work with clients, and operate as business advisors and strategic partners, as well as legal counselors. More information about the firm is available at www.fredlaw.com. Follow us on LinkedIn and on Twitter @FredriksonLaw.
Media Contact: Kelly Griffith, Marketing Communications Manager, 612.492.7514, kgriffith@fredlaw.com
Media Contact
Kelly Griffith
612-492-7514