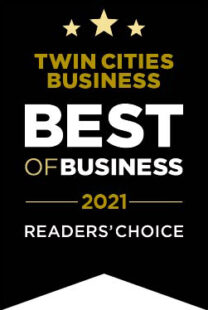 Fredrikson & Byron has been named law firm category winner of the Best of Business 2021 Readers' Choice Award by Twin Cities Business (TCB). The annual survey of executives and decision-makers recognizes one winner and two finalists in each category to honor favored and respected local businesses.
"We are proud and grateful to represent our many clients who have helped us achieve this recognition for the second consecutive year," said Fredrikson president John Koneck. "Fredrikson & Byron prioritizes client service and continued process improvement to exceed our clients' expectations."
The Best of Business program identified this year's list of "bests" by partnering with the surveying firm DataJoe Research to accumulate votes from the TCB magazine, e-newsletters and website readers, asking questions such as, "Which companies exemplify true excellence in their respective industries?" For more information, visit TCBmag.com.
Fredrikson & Byron is a leading Midwest law firm working collaboratively to help businesses achieve their goals regionally, nationally and globally. With a reputation as the firm "where law and business meet," our attorneys bring business acumen and entrepreneurial thinking to work with clients and operate as business advisors and strategic partners as well as legal counselors. The firm's 300+ attorneys are based in Minneapolis, with offices in Bismarck, Des Moines, Fargo, Mankato, St. Paul, Saltillo, Mexico, and Shanghai, China. Learn more at fredlaw.com, LinkedIn or @FredriksonLaw.
Media Contact
Kelly Griffith
612-492-7514