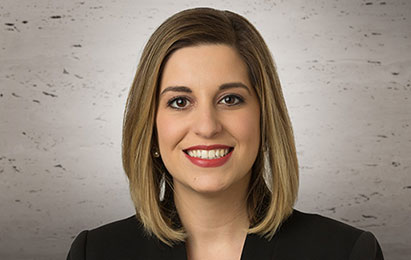 Attorney Amanda M. Mills has joined Fredrikson & Byron as an associate in the firm's Litigation Group.
Mills (formerly, Sicoli) works with her clients to navigate through a wide range of business disputes, including complex commercial litigation, banking and financial services litigation, real estate and landlord-tenant related matters, white collar criminal defense and internal investigations. She supports clients throughout all stages of litigation and provides guidance to help businesses avoid litigation whenever possible.
Mills is consistently recognized as a North Star Lawyer by the Minnesota State Bar Association for her work on numerous pro bono cases. She volunteers with the VLN Housing Court Project, The Advocates for Human Rights and the Knox Alumni Mentoring Program. Mills is the Secretary of the Board of Directors of Find Your Power, a local non-profit that connects underrepresented women worldwide with resources that further education, advocacy, community and employment.
Mills previously served as a clerk for the Honorable Patrick J. Schiltz in the United States District Court for the District of Minnesota. She received her J.D. from William Mitchell College of Law.
Fredrikson & Byron is a 300-attorney law firm based in Minneapolis, with offices in Bismarck, Des Moines, Fargo, Mankato, St. Paul, Saltillo, Mexico, and Shanghai, China. Fredrikson & Byron has a reputation as the firm "where law and business meet." Our attorneys bring business acumen and entrepreneurial thinking to work with clients, and operate as business advisors and strategic partners, as well as legal counselors. More information about the firm is available at www.fredlaw.com. Follow us on LinkedIn and on Twitter @FredriksonLaw.
Media Contact: Kelly Griffith, 612.492.7514, kgriffith@fredlaw.com.
Media Contact
Kelly Griffith
612.492.7514