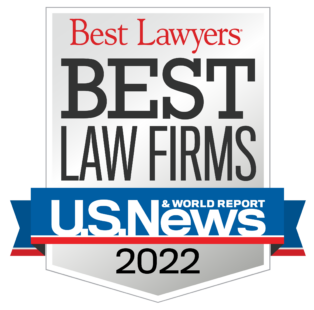 Fredrikson & Byron has been named a Tier 1 Metropolitan "Best Law Firm" in 40 practice areas by U.S. News – Best Lawyers® in 2022. U.S. News – Best Lawyers "Best Law Firms" rankings are based on a rigorous evaluation process that includes the collection of client and lawyer evaluations, peer review from leading attorneys in their field and review of additional information provided by law firms as part of the formal submission process. To be eligible for a ranking in a particular practice area and metro region, a law firm must have at least one lawyer who is included in Best Lawyers in that practice area and metro.
Bismarck
Des Moines
Fargo
Minneapolis
For more information on Best Lawyers, visit bestlawyers.com.
Fredrikson & Byron is a leading Midwest law firm working collaboratively to help businesses achieve their goals regionally, nationally and globally. With a reputation as the firm "where law and business meet," our attorneys bring business acumen and entrepreneurial thinking to work with clients and operate as business advisors and strategic partners as well as legal counselors. The firm's 300+ attorneys are based in Minneapolis, with offices in Bismarck, Des Moines, Fargo, Mankato, St. Paul, Saltillo, Mexico, and Shanghai, China. Learn more at fredlaw.com, LinkedIn or @FredriksonLaw.
Media Contact
Kelly Griffith
612-492-7514