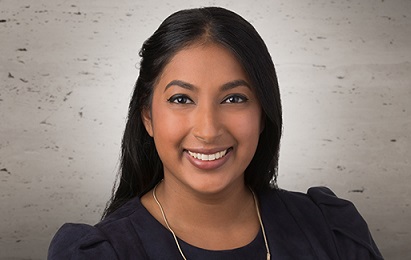 Attorney Navita T. Lakhram has joined Fredrikson & Byron as an associate in the Mergers & Acquisitions Group.
Lakhram's practice focuses on efficiently and effectively assisting clients with mergers, acquisitions and general corporate matters. She is a motivated self-starter who approaches every challenge with resilience and attention to detail. Prior to joining Fredrikson, Lakhram was an associate at another Twin Cities law firm, practicing in the areas of Employment Law, Wills, Trusts & Estates, Corporate Governance, and Business Transactions. Before that, she worked in-house at a Twin Cities based hair salon franchisor, where she implemented compliance programs, and successfully negotiated favorable lease terms with a national retailer, for the benefit of the franchisor and its franchisees. Lakhram is actively engaged in the Twin Cities legal community, serving as an Adjunct Professor at the Mitchell Hamline School of Law, Fredrikson's appointed Representative to the Emerging Leaders Group of Twin Cities Diversity in Practice, and the co-chair of the Partner Leadership Council of Minnesota Women Lawyers.
Fredrikson & Byron is a leading Midwest law firm working collaboratively to help businesses achieve their goals regionally, nationally and globally. With a reputation as the firm "where law and business meet," our attorneys bring business acumen and entrepreneurial thinking to work with clients and operate as business advisors and strategic partners as well as legal counselors. The firm's 300+ attorneys are based in Minneapolis, with offices in Bismarck, Des Moines, Fargo, Mankato, St. Paul, Saltillo, Mexico, and Shanghai, China. Learn more at fredlaw.com, LinkedIn or @FredriksonLaw.
Related Services